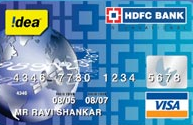 With rising disposable income in India, Indians are looking for credit cards to suit their specific requirements. This has led to a BOOM in co-branding of credit cards with leading national and international banks.
There are over 50 co-branded credit cards in India
Some of the co-branded credit cards are HDFC Bank Idea Cellular Credit Card, ICICI bank HPCL Card, Indian Airlines-Amex Card and Indian Oil – Citibank card.
These cards come for various verticals such as Fuel, Travel, Auto, Cash Back, Telecom and Retail
Some co-branded cards like LG SBI card various incentives for card holders – Discounts on Annual Maintainenance contracts, flexipay @ 10% interest rate, balance Transfer of Rs 75,000 at 0% for 75 days etc.
Another co-branded card, Indiatimes – ICICI card gives security upto maximum of Rs 20,000 on internet transactions + 4 reward points for every Rs 200 spent + 5% cash back on airline tickets etc.
Choose a card carefully to suit your requirements like – Retail Card or Airlines card if you are a frequent flyer. Make sure you have a copy of all the terms and conditions before you apply for a card.
Tags: Credit Cards India, HDFC Credit Card, SBI Credit Card, ICICI Credit Card