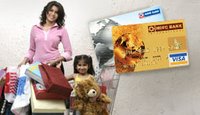 We have just now learnt from our sources in HDFC Bank that the company after merger with Centurion Bank of Punjab has become the second largest credit card issuer in India beating beleaguered Citibank and SBI-GE Money in the race. HDFC Bank now has a base of 4.2 mn credit card customers while Citi India has around 3.8 mn and SBI-GE Capital have around 3 mn customers.
Mr. Parag Rao of HDFC Bank said,
We have followed a consistent strategy that relies on three pillars – delivery of best possible customer service, focus on internal customers, and offering simple products. The annual fee waiver was one step that impacted the entire industry. We were also forced to waive fees on our cards as most players were doing it.
HDFC Bank has a unique business model where it ha not issued any co-branded credit cards to simply enlarge customer base. HDFC focused on its own customers which has allowed the lender to pare operating costs.
Mr Parag Rao further added,
We have not chased bargain seekers in the market as they keep moving from one issuer to another. We have never blindly acquired customers or offered them low interest rates as against competition to retain customers. Our NPAs are lower than the industry average, and its operating cost is also among the lowest in the industry.
The gap between the largest and second largest credit card issuer still remains very high with ICICI bank having issued around 8 mn credit cards. Well, that's why ICICI Bank for the first time in 6 years reported negative growth in QoQ results and huge NPA from retail banking division.