Today we'd like to present some facts on consumer spend on credit cards, APR and the overall portfolio of these loans by HDFC Bank, ICICI Bank and Axis Bank.
Average Monthly Spend by Consumer using Credit Cards is as follows
IndusInd Bank lead the pack where Average Spend was Rs 5,297
HDFC Bank Credit Cards – Rs 4,127
Kotak Mahindra Bank – Rs 4,087
ICICI Bank – Rs 3,388
Axis Bank – Rs 3,028
SBI Cards – Rs 2,976
Credit Card APR Comparison
Depending on ones Credit History APR may vary between 3% per month to 4% per month from bank to bank. The following chart shows the comparison of APRs levied by ICICI Credit Cards, HDFC Credit Cards, Axis Bank Cards as well as IndusInd Bank.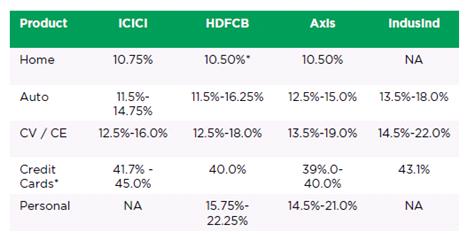 Credit Card Portfolio of HDFC Vs ICICI Vs Axis
After 2008 financial crisis, HDFC Bank adopted a strategy of pushing Retail Credit to existing customers of Bank. The following chart shows the disbursement and Value of outstanding Credit Cards and Personal Loans with NPAs at the end of March-2012 by various banks. [in Rs Crore]

In the next article we'll analyze how and why ICICI Bank lost the Credit Cards Consumer Market. Questions / Comments are welcome.