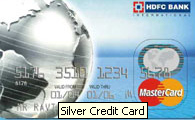 HDFC Bank's Silver Credit Card which essentially is a co-branded MasterCard for the ones who are beginning to establish cerdit history and don't fall in the high income group.
Eligibility:
Income constraints is very relaxed – 72,000 to 96,000 Per Year.
WOW! You must eb thinkign you are eligible. Read the following few liens if you really need this one.
Fess & Charges:
Interest Free Period style="font-weight: bold;"> – 50 days
Minimum Repayment – 5% of Rs200 whichever is higher. + 12% Service tax on the interest component.
Joining Fee – Rs300
Annual Fee – Rs700
1 additional card can be given for free for life.
APR – Annual Percentage Rate – 2.95% Per Month (34% Annually)
Late Payment Charges – 30% of minimum amount due subject to minimum of Rs 350 and maximum of Rs 600
Charges on overlimit account – 2.5% of overlimit amount subject to a minimum of Rs 500
Payment return Charges – 2% of payment amount subject to minimum of Rs. 300
Petrol Transaction Charge – 2.5% (subject to a minimum of Rs 10)
Railway Ticket Purchase Fee – Rs 30 + 2.5% of transaction amount
Jeez! Is this a credit card or a fee card ? The only merit about this card is interest free period is 50 days. However, if you are late or if you use this card for petrol purchase of railway ticket purchase, you have to save more to cover the various fees which are unnecessary. Sux!!!
Without any doubt, CardBhai, suggests to AVOID using or applying for HDFC Bank's Silver Credit Card.