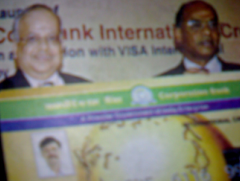 State Owned Corporation Bank just a while ago launched Credit Card in association with VISA. The card is branded as CorpBank International Visa – Classic and Gold Credit Cards. [On your Left is Photo of RBI Deputy Governor V leeladhar with CorpBank CMD, Sambamurthy]
Since it is a VISA card, you can use it wherever VISA is accepted. Some of the good features of this card are as follows.
The credit card will have card holders Photo and digitally imprinted signature. [This is absent in HDFC and ICICI credit cards]
Interest rate is lowest at 1.75% per month compared to others
Customer can set his own credit limit [Absent in most other cards]
Readers of our website should note that their is no Annual Fees / Joining fees on this card as an introductory offer. Also you will get Cash Back and petrol Surcharge waiver.
Tags: India Credit Card, VISA, CorpBank, India