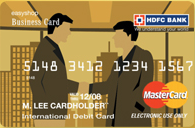 Cardbhai received information on HDFC Bank's business debit card. Here is the review of the same.
Higher Withdrawal Card Limit ATM – Rs 50,000 / day. Additionally, Purchases at Point of Sale – Rs 50,000
For every Rs 200 spent @ merchant outlets, using Business Debit Card, you receive a cash back of INR 1.
Petrol surcharge waiver for purchase of fuel at any petrol pump in India
Fire / Burglary cover for items purchased using this debit card [upto 6 months] for a total sum of Rs 200,000

The best feature of this card is Zero Liability

– If it's not your purchase, it's not your problem. You will not have any liability to any fraudulent transactions on the debit card which took place 30 days prior to reporting the card loss [

This feature is not available on any of HDFC bank's Credit Cards. We are liable for all purchases until we report the card is lost / stolen

]
This has a tie-up with Mastercard and hence eligible for special promotions and discounts from time to time.
There is an Annual Fee of Rs 250 / card and every additional card handed out to your employees also come with Rs 250 / card.