We have all heard of Privilege Cards, Mileage Cards, etc. In continued efforts to woo the Indian consumer, ABN Amro went ahead and launched a designer Platinum Master Card.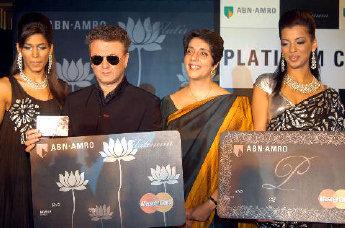 ABN's Indian CEO, Meera Sanyal with Designer Rohit Bahl and super hot models released the card in Mumbai. This is no ordinary card as you must have already guessed since Rohit Bahl is the brand ambassador for the same. [Retail India has more coverage about Designer Rohit Bahl]
Features of ABN Amro Designer Platinum MasterCard:
The Card has an Initial and Annual Fees ranging between Rs 8,500 and Rs 21,500 depending upon the club membership opted for
Privileges include access to over 500 airport lounges and concierge services
Comprehensive insurance coverage of Rs 1 crore
Discount at all Taj Hotels and access to 2400 golf resorts
This card is certainly for the elite Executives and I think it will be available by invitation only.