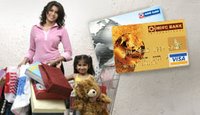 Axis Bank became the first bank in India to introduce credit cards in accordance with Europay, Mastercard, Visa standards that comes with an embedded chip to store the card holders details. [More details on that EMV Standards here] The chip sends a secret message to authenticate every transaction making it difficult for a fraudster to steal the information.
Axis Bank's VISA Platinum Credit Card will be issued on the above standards. It is not clear weather all debit cards and credit cards will be replaced in the future to comply with EMV card standards. By complying with the above standards, one can drastically reduce the fraud occurring by skimming and counterfeiting.
Finally after having personally written to many banks, HDFC Bank accepted our recommendations on making online authentication safer for online banking customer.