India's leading private bank, Axis Bank has introduced an innovative feature from security stand point, for its Customers holding Debit Card. The feature lets you "Switch On / Off the Debit Card" for transactions. What does Switch On / Off mean ? It means that the Debit Card cannot be used when it is Switched Off.
Why does one need Switch On / Off on a Debit Card ?
For the sake of argument one can easily say that Debit Cards always require a 4 or 6 Digit PIN for transaction authentication so why does one need the Turn On / Off feature ? The feature comes in handy for consumers like me where the Balance in the Account linked to the card is always in Lakhs, so that we can turn off the card when not being used. The necessity of this arose due to the International Card Frauds that happened on Indian Banks.
How to Switch On / Off Axis Bank credit Card ?
Axis Bank has given the customer choice of using "Online Banking" to Switch On / Off as shown in the screenshot below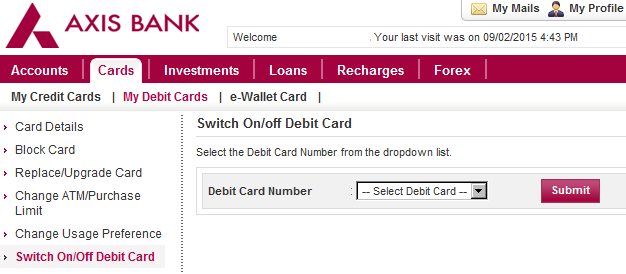 You can also set your own limit, this comes in hand for consumers using the card for e-commerce / online shopping. You can also use the Axis Bank Mobile Banking Application where this feature is available.
Axis Bank has also launched a new EMV Chip Based Debit Card which is completely secure and also comes with fraud protection in case of the card being misused. The new card will cost customer Rs 300 + Taxes and you also get Rs 5 Lakh Accident Insurance coupled with Fraud Protection of upto Rs 75,000 allowing 15 days leeway backwards on your informing the bank.
Axis bank is one of the largest debit card issuers in the country with a base of 14.3mn. With a credit card base of 1.74mn, the bank maintained its position of fifth largest credit card issuer in India. The Bank has also emerged as one of the largest acquirers of POS terminals in the country with an installed base of around 250K.
We were always of the opinion that HDFC Bank's Cards were the leaders in Innovative Product Offerings, but Axis Bank has proved them wrong, at least this time and hopefully all the other banks in India will provide secured digital banking platform for Indians.