Private Banks in India such as HDFC and ICICI embraced technology and a new theme of banking has emerged in the past decade which is based on Web and Mobile Platforms. Today, we'd like to educate readers on the new facility rolled out by HDFC Banks Online Credit Card section for customers where they can easily convert their Big Ticket Purchases into EMIs by just few clicks and in a totally transparent way. [ We are aware of Options that are available to Customer to make Purchases with EMI, but this is something new, which lets you convert into EMIs after you have done the Purchase] You can read FAQs on Credit Card EMI here.
This Month, May-2012, HDFC Cards section of the HDFC Bank website has rolled out this new feature "Dial an EMI" [You can actually also avail EMI facilities from Call Center, but I'd prefer the Website Mode] As seen in the screenshot below, when you log on to Cards section you see a new column on your transactions statement -"Dial EMI".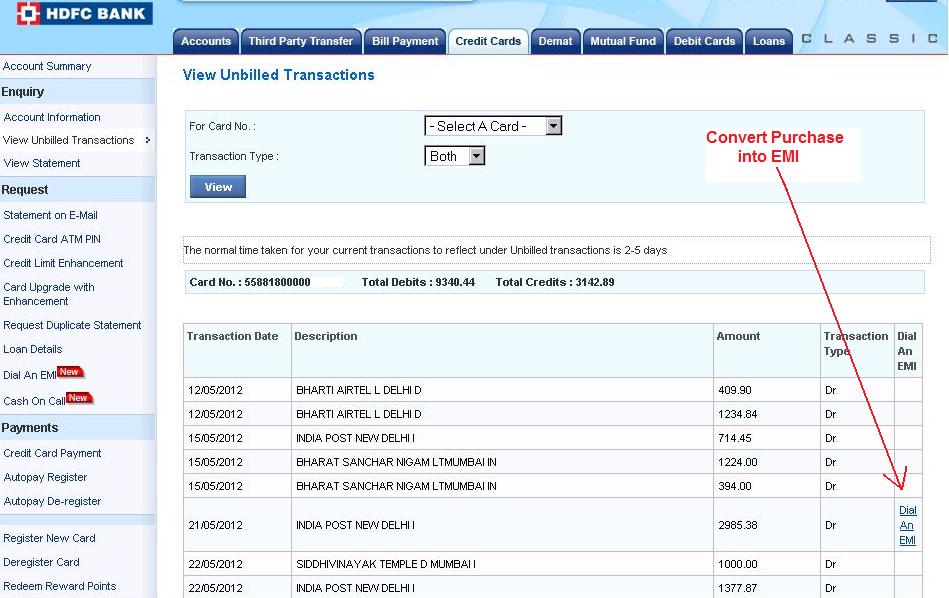 In the Dial EMI column, HDFC's IT Systems automatically offer which transaction of yours qualify for EMI.
Once you click on the Dial EMI, you will be taken to the next screen as shown below, which highlights the Loan Amount and the payment options available under EMI i.e Tenure and Rate of Interest. The rate of interest will vary from customer to customer based on his past payment track record as well as internal credit assessment.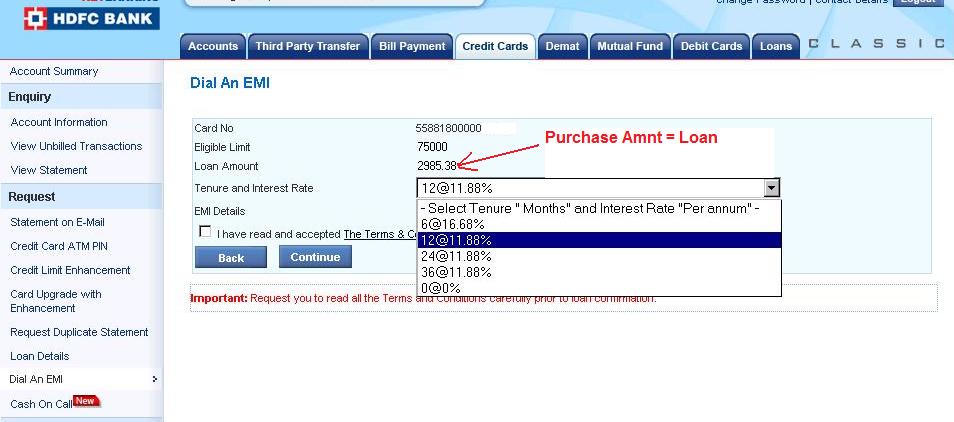 Once you choose the Tenure which comes with pre-determined rate of Interest, you will be shown your monthly EMI commitment as shown below. Varying the Tenure, EMI changes automatically on the screen so that this helps you plan your monthly budget and choose the EMI accordingly.
Why Converting Big Ticket Purchases to EMI a Win-Win Situation ?Consumers are always tempted to spend when they have the power of credit card, though strictly speaking it is against the laws of finance. Now, EMI is a means to lighten monthly payment burden of your credit cards and at the same time an opportunity for Banks to make money as they collect interest. Also by converting to EMI and lighter payment options, the rate of default on credit cards has gone down, which is highly appreciable.
I'm sure, more banks could be offering this facility to convert Purchases into EMI after the transaction, do let us know which ones are. And use your Credit Card wisely as it is not your money but Bank's.