You just can't stop embracing Technology seems to be the buzzword at HDFC Credit Cards division. Customers with very good payment track record are now being offered Cash / Loan on Credit Cards at very attractive Interest Rates with EMI facility. Earlier the card company would engage customer service executives to call but now with Do Not Disturb regulations in place, they have taken the communication mode online and it appears right on your Credit Card Transactions Screen.
You have been working too hard and want to take a summer break but short on budget. We'd suggest that you take a Loan on your Credit Card instead of Directly using the Card itself during your vacation as you will enjoy significant interest rate differential.
The Screenshot below shows Eligibility of Loan on your HDFC Credit Card, fill in the amount you wish to avail, then choose the tenure of the loan based on your financial planning and commitments, choose the SB Account where it has to be credited and bingo! the amount is their for you to use.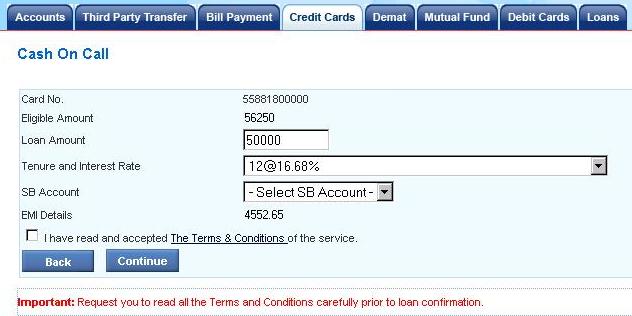 As shown above for Loan tenure of 12 Months the Rate of interest is 16.68% and monthly EMI is Rs 4552.65. If you choose a tenure of 24 Months, the Rate of Interest is reduced to 11.88% and monthly EMI drops to Rs 2350.87 as shown below.


The Terms and Conditions are also listed for Ready Reference and we strongly suggest that you print it out in case of any dispute at a later date.
What you should be Careful about when Availing Loan on Credit Cards ?
Your EMI billed to your CreditCard Payments Monthly already has an interest component of 16.68% or 11.88% based on the tenure selected. So in case if you default on your monthly credit card bill or just pay the minimum amount, the the normal APR charges will be applied on the entire balance of your monthly credit card bill. Now view the EMI in seclusion, you'd have ended up paying 16.68% + 24% [Assuming that is your normal Credit Card APR]. So be careful and Pay the Bills in full, only then you will enjoy the benefits of good credit history.