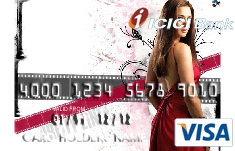 We have just been told by a reader about the new personalization features introduced by ICICI Bank for Debit / Credit Cards.
ICICI Bank has tied up with CardPix which lets one customize ICICI cards / Picture Cards. Here is one which we customized having Preity Zinta in the background. You can do it too, having member of your family or your ultimate vacation in Europe etc on your card so that you always have those moments with you to smile 🙂
We have not customized and bought any card, but if you want you can do so. The ICICI Bank Picture Credit Card is available at a nominal fee of Rs 200 only. This fee will apply every time you decide to put a new image onto your ICICI Bank Picture Credit Card. The fees will be charged to your ICICI Bank primary credit card account.